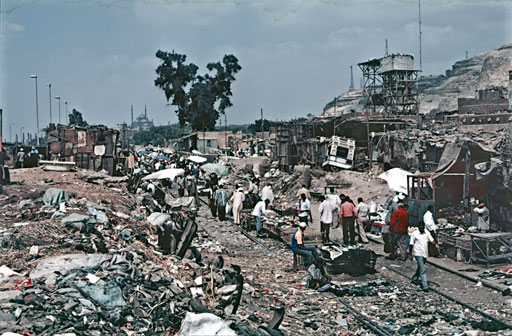 Friday market
series of 10 C-prints, 50x75 cm, 2008/2012
The photographs were taken during the course of one day at Cairo's Souk Gomma (Friday Market) in a popular neighborhood in the outskirts of Cairo. Every Friday, locals and vendors from all over the city set up their products for sale along the train tracks framed by the highway and the Al-Imam As Safi'i cemetery – from used radios, books, clothing, house ware, tools, bicycles, broken telephones or light bulbs to (living) animals such as pigeons or dogs. The ground around the train tracks is littered with the remains of discarded, once for sale items. In the late afternoon the sellers pack up and the neighborhood is taken over again by the locals.
Due to faulty film processing by the lab – the slide film was developed in Cairo – the images have a tint reminiscent of old photographs which augments the friction between the present reality of the site, its past and future.

...In many parts of the world, make shift markets are regularly installed which disturb the flow and transit of the city. In spite of complaints of motorists and interventions of urban planners, these markets do not conform to the demands of official structures of society but rather follow a traditional and popular logic. Beyond the picturesque appearance which presents itself to the foreign gaze, the temporary space of the market evolves from a reconciliation between tradition and practical necessity which ignores governmental norms and facilitates the relations between sellers and buyers – relations which do not conform to customs and tax laws of the official economy.
Holzfeind documents the Friday Market with cinematographic camera movements and wide angle views. The processing of the slides with old, bad chemicals causes a tint in the pictures reminiscent of old photographs. This "accidental" aging of a contemporary recording, as well as the panoramic view create an epic effect which refers to the inevitable ruptures between social reality and social project in the region. (Jorge Reynoso Pohlenz)

The photographs were first published by the Austrian art magazine "Quart Heft für Kultur Tirol #13". In the magazine the images were printed in the exact manner/framing in which the photo lab in Cairo had produced scans of the slides: the framing of the images had shifted in several of the scans, cropping the left part of the image, and including the film strip and sometimes also part of the following image on the filmstrip.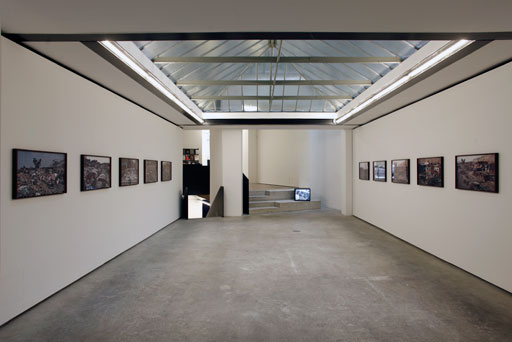 Installation view BAWAG Contemporary, Vienna 2012