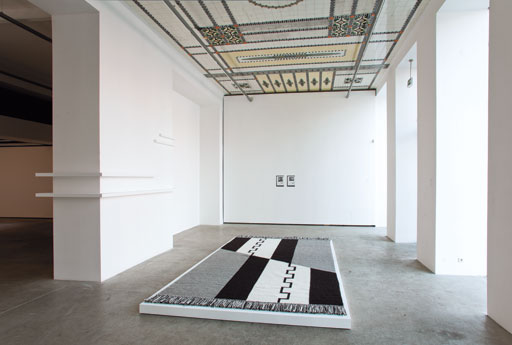 Strictly Private, 2012
The group of works focuses on the Viennese architect Ernst Schwadron (Vienna 1896 - New York 1979). He was the eldest son of the cofounder of "Brüder Schwadron", a well-known Jewish ceramics and tile company. The company's offices and showroom used to be BAWAG Contemporary's exhibition spaces in 2012. (An original tiled ceiling remains until today). Five floors above the gallery rooms, in the same building on Franz Josefs Kai 3, used to be Ernst Schwadron's own penthouse apartment.

Ernst Schwadron worked as an architect and interior designer in the late 1920's and 1930's in Vienna, mostly for a wealthy Jewish clientele. In 1938 he fled the Nazis and emigrated to New York where he ran his own design business, Ernst Schwadron Inc., on Madison Avenue for 30 years. In the late 1940's he built a house for himselfand his second wife in upstate New York which he called "Dream Lake." He died in New York in 1979 at the age of 82, pretty much forgotten in the architectural world.


The works interweave different places and points in time between 1930 and today, fathom the boundaries between history and identity, personal fate and today's political narratives, reality and fiction. The interior of the gallery becomes a container for various photographs and artifacts that quote interiors of Schwadron.



Interiors are the focus of this new work, which picks up the trail of the Austrian architect Ernst Schwadron who was forced to emigrate to the United States in 1938. Presenting photographs of various interiors of homes he designed in Vienna and New York, Holzfeind documents a history full of gaps and question marks and, casting a glance at Schwadron's personal taste and significant traits, sketches a social portrait of one of the forgotten protagonists of Viennese modernism. (Christine Kintisch)