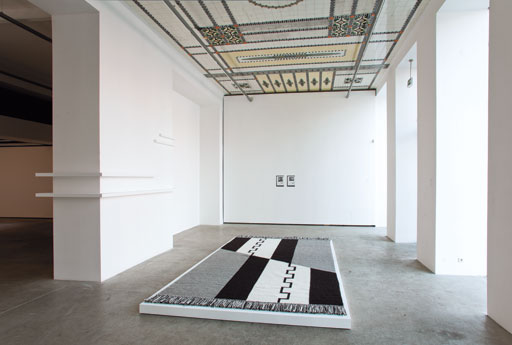 Carpet (after Erna Lederer) Wool, 230x420 cm, 2012
Chimney piece Wood, paint, dimensions variable, 2012
These two pieces were created for my solo show at BAWAG Contemporary in Vienna as part of a larger group of works about the Austrian architect and designer Ernst Schwadron (1896-1979). Schwadron's penthouse apartment was located on the top floor of Franz Josefs Kai 3, in the building owned by his family. Today BAWAG's exhibition spaces occupy the ground floor of the same building (the former showrooms of the ceramics company Brüder Schwadron.)
The photograph below, published in 1930 in an interior design magazine, shows a carpet designed by the painter Erna Lederer, Schwadron's first wife. According to the description in the accompanying article, the carpet was handwoven in white, grey and brown wool. For the exhibition the carpet was reproduced following the logic of the black and white photograph in white, grey and a dark (brownish) grey. During the exhibition the carpet lay exacty five floors below its original position in Schwadron's penthouse apartment, 82 years after the photograph of the "great hall" was published.
The carpet raises questions concerning the whereabouts of the furnishings of the apartment Schwadron left in 1938 when he was forced to emigrate. (The Vienna Gestapo seized the entire property on January 24, 1941.) Did Schwadron sell or give away the furniture and carpets before his escape, did he ship them to New York, or did he leave them behind?
The "Chimney Piece" references the chimney visible in the same photograph.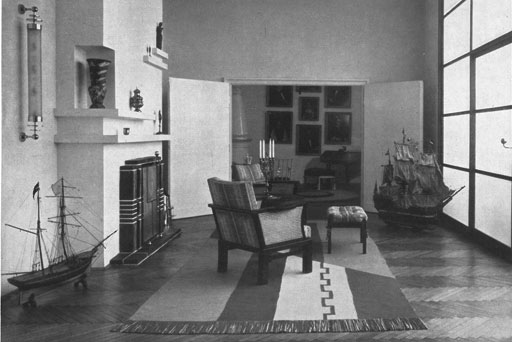 Great hall with fireplace and carpet, Ernst Schwadron's penthouse apartment 1930