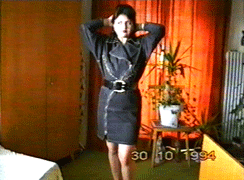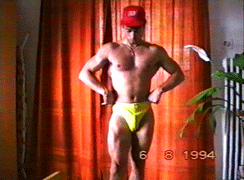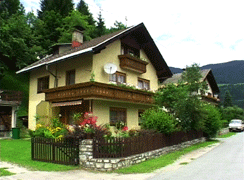 The Romanians (Live like a king)
video, German with English subtitles, 14 min, 2002
Peter Plesa left Romania in 1990, walking all the way from Romania to Austria. He stayed in the famous camp in Traiskirchen and a refugee house in Lower Austria for 9 months before he found work in Kötschach-Mauthen. Since 1991 he lives there together with his wife Aurelia in my grandfather's house. "The Romanians" portraits two "well integrated" immigrants with common aims. Their capitalist desires and a-political view are put in contrast with their former life in Romania and the difficulties they faced when they first arrived in Austria.
"The Romanians" mixes interviews recorded at their home in Austria with their own home videos shot at their house in Austria and their holidays in Romania.
Script, Camera, Editing: Heidrun Holzfeind. Cast: Aurelia Plesa, Peter Plesa. VHS footage: Aurelia and Peter Plesa.
Music: Bairom1, Rhumbe, Gheorghe Zamfir


-