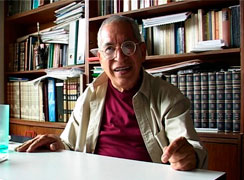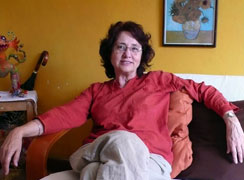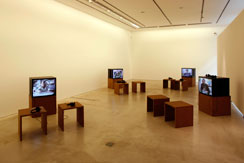 installation view Galerie im Taxispalais




Mexico 68 / interviews with participants of the student movement (2007)

Between 2005 and 2007 I conducted a series of video interviews with activists of the 1968 student movement. MEXICO 68 investigates the significance and impact of the '68 student movement on Mexican society, politics and culture in general, and on the lives of the participants in particular. Conducted almost forty years after the fact, the 18 interviews with activists offer a diverse range of personal accounts, political and social analysis as well as reflections on the events that took place during that mythic year. They document the visions and dreams of a generation that aspired to change an authoritarian political system and transform Mexican society.

A series of twenty-six black and white photographs complete the work. The collection of images from various archives document the massive demonstrations, meetings at the University Campus and the Zocalo, students distributing pamphlets in the streets, and the occupation of the University Campus by the army, amongst others.

The 68 student movement in Mexico began with attacks of repressive police forces against students in Mexico City in July of 1968. Students from the National University of Mexico (UNAM), the Politecnical institute (IPN) and various high schools formed the National Strike Council and released a six point petition which demanded civil liberties and the end of government repression. The strike was soon supported by universities throughout the country, teachers, intellectuals and artists. During August and September the movement organized mass demonstrations with up to 600.000 participants and received growing support from student families, a substantial part of the Mexican middle class as well as some worker unions. After the army occupied the UNAM and IPN campuses, the conflict escalated in the infamous massacre of Tlatelolco on October 2 1968, ten days before the Olympic Games were inaugurated in the University stadium in Mexico City. The strike officially ended in December of 1968 but the last political prisoners of the movement were released from prison only in 1971.
The interviews are published in the two volume book "Heidrun Holzfeind MEXICO 68 / CU" by Kodoji Press, October 2009. www.mexico68.net

Interviewed persons:
Raul Alvarez (physicist, writer; Comité de 68)
Selma Beraud (actress)
Maria Fernanda Campa Uranga (geologist, Universidad Autónoma de la Ciudad de Mexico)
Deborah Dultzin Kessler (astrophysicist, UNAM)
Rodolfo Echeverria (National Commission for Indian Affairs)
Silvia Gonzales Marin (historian, researcher, Institute for Bibliographic Research, UNAM)
Hira de Gortari (historian, Institute for Social Investigation, UNAM)
Renata von Hanffstengel (professor for German literature, UNAM)
Teresa Losada (sociologist, Institute of Political Science, UNAM)
Ana Ignacia Rodriguez, Nacha (human rights activist, Comité de 68)
Carolia Paniagua (psychologist, painter)
Mercedes Perelló (psychologist, editor)
Marcelino Perelló Valls (mathematics professor, UNAM)
Elena Poniatowska (writer)
Patricia de los Rios (professor of Social Sciences and Politics, Iberoamerican University)
Carlos Sevilla (political science professor, UNAM)
Carmen Soler (molecular biologist, Institute for Biomedical Research, UNAM)
Raul Moreno Wonchee (researcher, Center for Latin American and Caribbean Studies, UNAM)