Norito prayer by Shizuko Orimo
September 24, 2018, Inter-University Seminar House, Nakayama, Hachioji

Hey! (Addressing the Water Spirits and Microbes of the Land)
Spring up from below!
Sparkle, sparkle, twinkle, twinkle, sparkle, sparkle!
Sparkle, sparkle, twinkle, twinkle, sparkle!
Spirits of the Water! All You Microbes! Gush forth!
Sway! Back and forth, sway. (Addressing the Dragon-God)
Back and forth, dance as You will!
Preserving the Memory of Ancient Days,
This precious Land Flowing with Water.
You Spirits of the Water, spring up!
Gush up high, way up to the Heavens!
Water Vibrations of Life, spring forth to the edges of the Earth!
Humankind has lost its way.
We have bathed in an excess of luxury.
We have sacrificed the Lives of Many.
Those Things Unseen, and Those We Can See;
Or Those We Have Pretended Not to See and Have Chosen to Ignore.
Let us stop pretending not to see!
Let us respect Those Who Bear the Burden from the Very Lowest Rungs.
Let us respect All People.
With no one above and no one below, that is the Future towards Which We Must Aim.
The Feeble Voices, Those Voices Unheard we must hold precious.
Let's move beyond rich and gentle Death, take it into our hands.
Just like Microbes, let's all dance to the other side of Death.
Let us not be afraid of Death!
There's no anguish.
There's no loneliness.
Beyond Death, there is abundant Joy.
Let's discover it.
From here onward, let's go out in search of it.
Let us pursue it.
Let us step forward.
In this Age;
Because the time is Now.
In Japan, in the 150 years since the Meiji Reformation;
Half has been spent in war, half in peace.
Henceforth, it is up to us.
13,000 years ago, in the Jomon Era, civilization was rooted in Earthenware,
And there was peace over the Land.
It was a Life Symbiotic with Nature;
The Mind-Heart symbiotic with Nature most essential for the Earth.
Receiving the Water of Life That Retains the Memory of Ancient Jomon,
I want to go Home. I want to return to the Origin of Life.
Let's retrieve it.
Towards the Future, let's celebrate to Live.
I want Today to be the Day I Am Born Again.
On this Land.
English translation by Norie Fukuda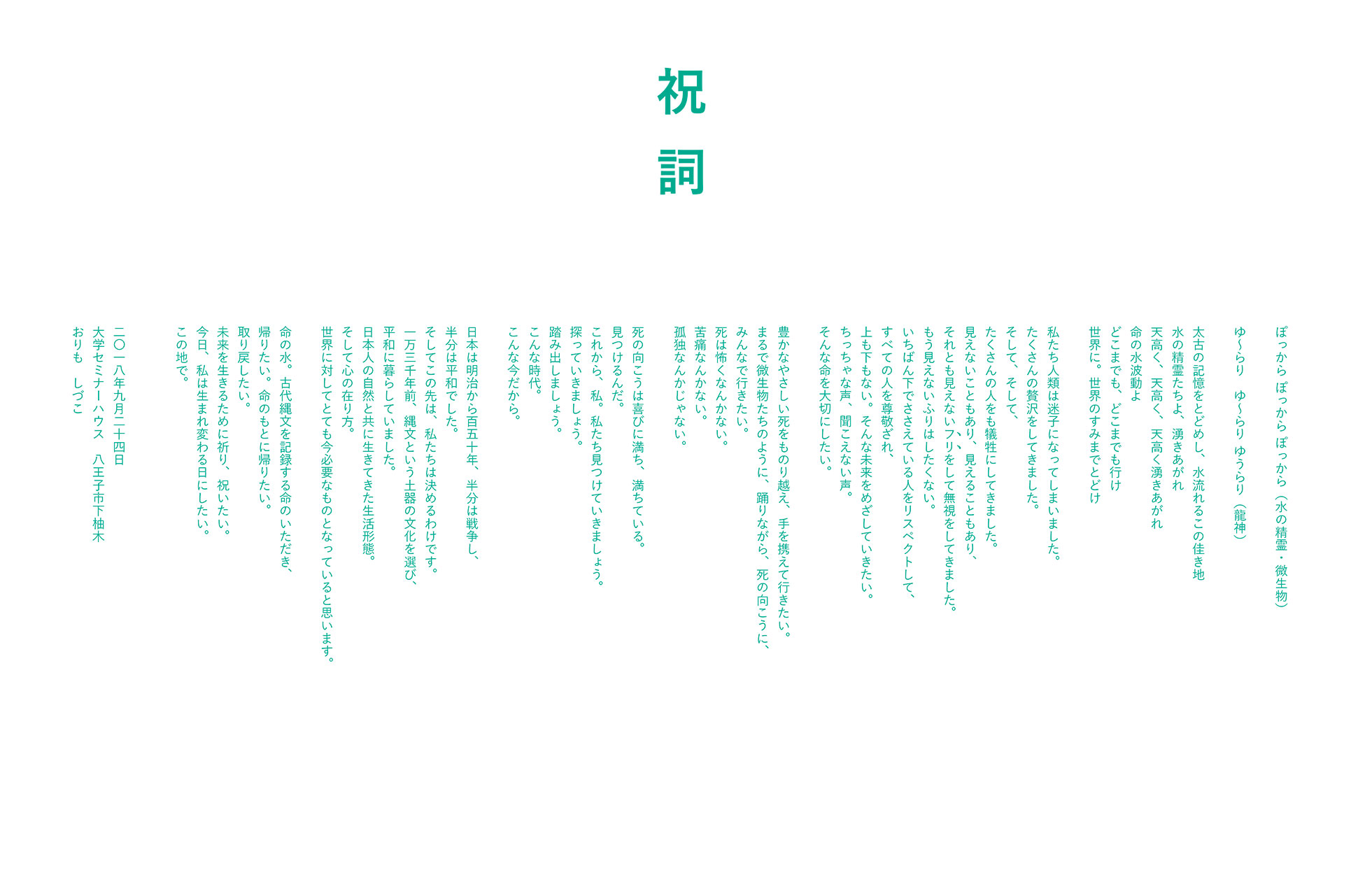 -