Friday market (long shot)
Video, Digital Beta to DVD, 8 min, 2008
In one long shot the camera travels along the section of Cairo's Friday market that is set up on railroad tracks. Here, framed by the highway and the Al-Imam As Safi'i cemetery, every Friday locals and vendors from all over the city offer their products for sale, set up on tables or spread on the ground. The camera moves at a steady, slow paste along the tracks, like a train passing a closed down station. The people inhabiting the market – the sellers and buyers, and the people living at its edge become the protagonist of the film, collapsing the borders between performance, documentary and fiction film.

The slow paste of the shot allows the viewer's attention to oscillate between the market in the foreground – the goods for sale, the dynamics between sellers and buyers, and the many (informal) architectural layers of the housing area and cemetery directly behind.
I am equally interested in the complex and multilayered architectural constructions as in the informal economy of the market. The range of products for sale questions our western concepts of what holds value, and the very notion and definition of a 'product' in itself: What we easily label as trash - useless or broken parts - are being recycled and offered for sale, a sign not only of desperation and economic need, but also of faith in the creativity of the buyer to find a possible new use for these items.
An Egyptian producer and crew were hired for the shoot. Due to the complications the presence of a foreigner would have caused in this location (including getting the shooting permits) it was agreed that the artist would not be present during the shoot. Consequently the crew and DOP followed simple instructions about the camera movement in the main shot as well as the making-of.


Concept / Script / Editing: Heidrun Holzfeind
Producer: Hassan Mahfouz, Production Manager: Ayman Shawki, DOP: Josef Saad
Produced for Photocairo4 / The Long Shortcut / CIC with funding from Bm:ukk and Austrian Cultural Forum Cairo.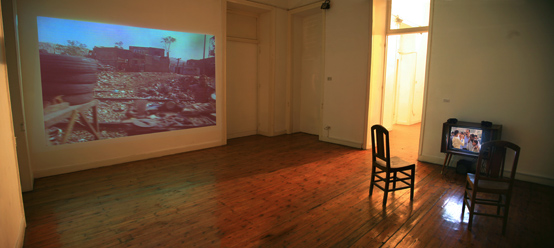 installation view Photocairo4, Townhouse gallery, Cairo (2008)


-